We see three important takeaways from the first round results of the presidential race.
1)     The electorate has spoken, and said that Emmanuel Macron is the most trusted politician to lead France for the next five years, but he gathered a rather modest support of 24% when compared with the last two presidential races
2)     Marine Le Pen came in second – she did not garner as much support as predicted originally by the surveys a few months back, but she should not be underestimated, in our view.
3)     The performance of the socialist party was abysmal.

Source: French interior minister, ADA Economics Research
What does this imply?
We believe that Macron is likely to win the second round of voting on 7 May: in our view, he should be able to attract most of Fillon's and Hamon's voters; leaving Le Pen with some backing from Melenchon's voter base, some of those that voted for the less well-known candidates (Dupont-Aignan, LaSalle, perhaps) and a small share of Fillon's voter base.
Macron's potential victory over Le Pen in the second round may well prove to be a lot narrower than the current opinion polls suggest (60-35%), but we believe that Le Pen is missing 1m votes, which she will not be able to mobilise quickly for three important reasons:
1.     She is distrusted on social issues by many voters who would agree with her on the EU or taxation issues. This is part of her legacy (and her views), and something that cannot be altered in the two weeks the campaign has left to run.
2.     Her programme is closer to Fillon's on taxes, but closer to Melenchon's on the EU. The majority of Melenchon's voter base, in our view, is not ready to back a different candidate just to change the EU.
3.     Two significant parts of her programme – the EU and support for SMEs – are not sufficiently mainstream priorities for now, in our view.
Even if Le Pen does not win the presidency, she is extremely well-positioned to influence the future of the EU anyway, in our view. To be fair, this is the case both because the Front National is leading the EU-sceptic debate at a time when the electorate is disillusioned with the Union, and also because the severe weakness of the socialist party opens the door for the "non-traditional" parties to perform well at the upcoming legislative elections (11th and 18th June). This time, the Front National, together with Melenchon and the remaining fringe parties, may well be able to gain enough seats to have the effective majority in parliament on topics concerning major EU reforms.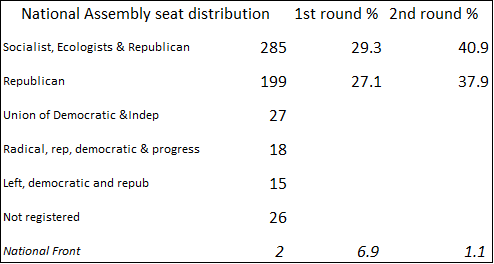 Source: French national assembly, ADA Economics Research
In conclusion: Macron is likely to win the presidency, but Le Pen is likely to win the debate on the future of Europe.