Since we published our year-ahead forecasts back in early-December, real GDP growth in the US economy has unfolded broadly as expected, as has inflation. The consensus forecasts for real GDP growth for the US have moved up and are now on a par with ours for 2018E, but still lagging our estimates for 2019E. The consensus forecasts for US inflation are fairly unchanged, and they continue to lag our estimates for 2019E. We are biased in favour of a continuing phase of euro-strength this year, which may lead to euro-dollar rising above 1.30 in coming months. We remain markedly dovish on the Fed, as we believe it is part of the new "Trump" strategy to boost nominal GDP growth.
Also, looking at the labour market and household income trends in the US, we simply do not see the grounds for excessive optimism for the medium term. Our views also differ markedly for the euro-dollar outlook for 2019, as we believe that, if the Euro continues to appreciate this year, the divergence in the business cycle between the US and the Eurozone will become evident next year, which should be dollar-positive.
In the Eurozone, the economy has unfolded broadly as we expected, and the consensus projections have been moving closer to our estimates. We see cause for concern for 2019E both as a result of Brexit and as the business cycle is doomed to turn sooner or later. In fact, the latest business surveys are already beginning to signal that growth momentum is no longer accelerating. Inflation has proved lower than we had expected, but in line with the consensus expectations and the ECB's forecasts. This is due partly to lower transport costs, and partly maybe as it could take longer for the bullish message from inflation surveys to translate into higher measured inflation.
We have thus cut our estimates by 0.4ppts for this year, from 2.1% to 1.7%. We keep 2019E unchanged at 2.5%.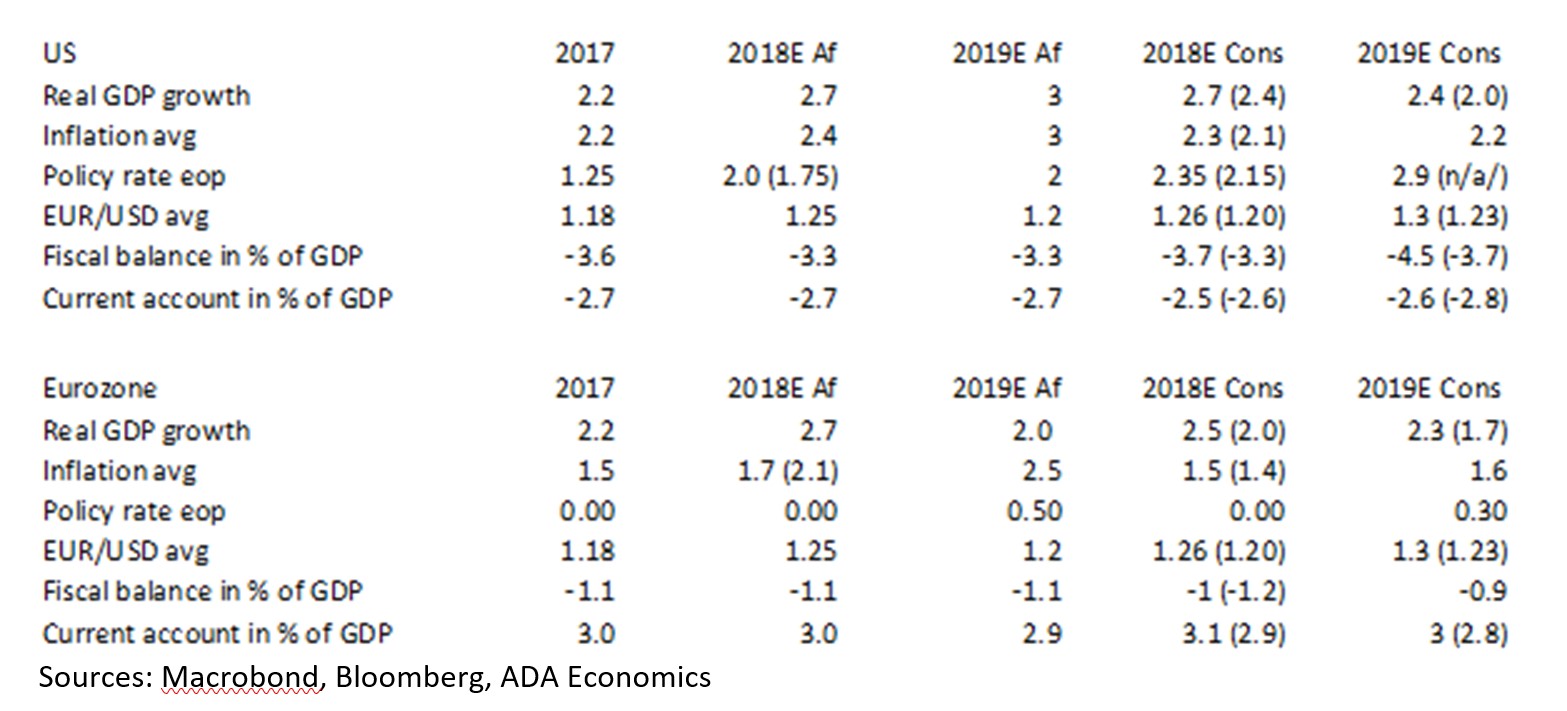 Full chartbook available here
To access our full range of restricted articles, research and products, get in touch  at callmeback@adaeconomics.com or sign up directly from our website.
Follow us on Twitter and subscribe to our MiFID-compliant weekly highlights newsletter!