Given the growing interest in cryptocurrencies as a form of alternative investment, together with the recent volatility in Bitcoin, we have taken the opportunity to unveil our prototype BTC/USD fair value model.
We started developing this model internally in March 2020, and we have updated it regularly since then, noticing an improvement in its predictive power as the new data points for 2020E were added. In our analysis, we estimate a fair value highly correlated with the US M3/GDP, which would bring the cryptocurrency to an average of 77,127 BTC/USD in 2022E, on our estimates.
Bitcoin: market highlights
Bitcoin is aiming at being a new medium of exchange, designed to speed up and make internet transactions safer through its virtual payment network. However, today, Bitcoin, besides being the most relevant cryptocurrency globally, is used mainly as a form of speculative investment. Furthermore, thanks to the unique features of the technology (e.g., limited supply and no central organisation that controls and manages its issuance), it has found itself in a niche position that puts it into competition with precious metals (like gold) and other commodities in terms of investment flows.
Many financial institutions, such as JP Morgan Chase & Co, assess the potential growth of the cryptocurrency as being far from over. According to recent Bloomberg articles, JP Morgan assesses a theoretical price of BTP/USD 146,000, with Bitcoin's market capitalisation at around USD 575bn. In the report, however, the strategists highlight that this should be considered a long-term target for the cryptocurrency and, even if the current volatility could push Bitcoin to that level, JP Morgan considers this price target as unsustainable for 2021E.
The rationale behind our fair value model
We have developed a BTC/USD model following our experience during the past three years in building fair value currency models for many EMs and AEs. Our model picks up the historical relationship between the American stock market (NYSE), the US policy rate, the US M3/GDP and the Fed's quantitative easing programme. In terms of approach, we have opted for the log-linear RLS method.
The aim of these models is to work as guidance for understanding how the market price fluctuates compared to macroeconomic fundamentals. For this model specifically, we cover the 2013-22E period, and we integrate the simplified assumption of no relapse recession and a steady GDP recovery. This allows us to show the upside pressure on BTC coming purely from the growth in money supply (relative to the GDP – for which we assume growth in line with the trend extracted with an HP filter), steady Fed QE in the background, and mild NYSE growth.
There are a few caveats to this model:
First, it does not pick up market sentiment in an asset that suffers from significant volatility (increases or declines of 20% per day are not extremely uncommon).
Secondly, this is a macroeconomic approach, which does not include an analysis of the technology. Bitcoin's value is inherently connected to the underlying technology, so downside risk comes from issues on the technical side, such as glitches and failures in core elements such as safety, supply constraints, etc.
Lastly, it is characterised by a very high ownership concentration, which may lead to significant fluctuations.
Our expectations
Our updated fair value model now signals upside pressure from fundamentals in the coming quarters, bringing the BTC to 80,000 BTC/USD. This would bring the BTC/USD to a 2021E average of 62,000. Going forward, for 2022E, our fair value model sees a fast-paced increase again, with a peak of 150,000 and an average of 77,000 during the year.
Bitcoin positioning
According to Bloomberg, ownership concentration of Bitcoin is extremely high, with 95% of the digital assets owned by 2% anonymous ownership accounts. Furthermore, there seems to be an accentuating trend in concentration. In other words, the owners of this 95% could have an enormous impact on potential price fluctuations, especially as that the market is still illiquid.
BTC/USD fair value model: Forecasts to 2022E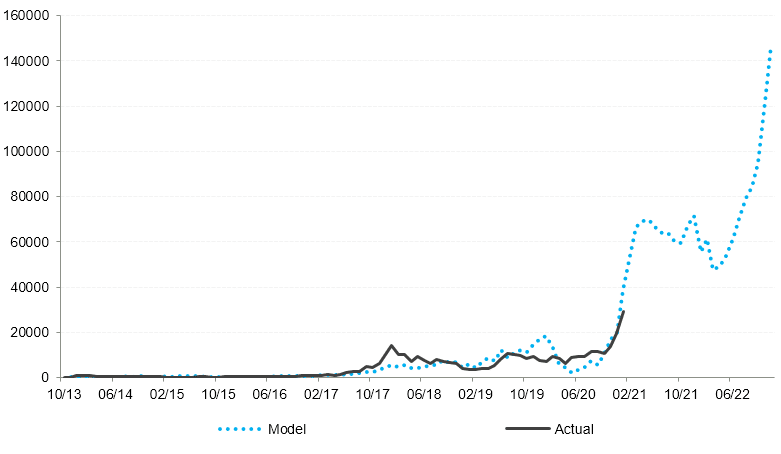 Sources: ADA Economics, CEIC
BTC/USD fair value model: 2013-2020 performance
Sources: ADA Economics, CEIC